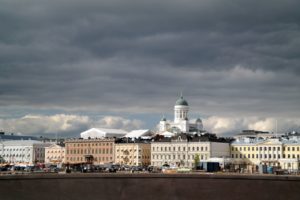 Modernism and Avant-gardism are artistic languages of rupture. Both were directed against traditional ways of conceiving art, often assuming an antagonistic position in relationship to existing cultural and social institutions and relationships.
This conference explores the utopian alternatives which Modernist and avant-garde artists offered to existing society. This was not always simply a question of taking an outside position: for example, the Russian avant-garde was co-opted by the early Soviet state in an uneasy – and temporary – alliance to give birth to the New Man.
The 2014 EAM conference in Helsinki commemorates the centenary of the break-out of the First World War by taking as its starting point the many utopian dreams within European literature and arts as well as their collapse in the face of the horrors of war. The effects of the War lasted throughout the century, and the conference will also explore the utopian dimensions of the neo-avant-garde, be it that of the West which dreamed alternatives to conformism and consumer society, or of the East which sheltered alternatives to socialist dystopia.
Three teams of ViennAvant network have presented their Research at
EAM

2014:

Irene Suchy (musicology), Helmut Neundlinger (literature), Harald Krejci (art history) and Rudolf Kohoutek (architecture) presented the Panel "Schmäh. Humour as a constitutive element of Viennese post-war avant-gardes"

Abstract:

"Viennese Post War Avant-garde movements are still disregarded in respect of their interdisciplinary relationships and their international context. While Vienna was destroyed by war, dominated by hunger, and its cultural institutions were still bestridden by exponents of the former Nazi regime, new forms of artistic expression were brought into being by the concept of utopia. These Avant-gardists were driven by a radical break with the past. Despite formal differences between individual positions, it is possible to identify common aesthetic strategies: a propensity towards ritual as well as humour – an aspect often overlooked:"

"As a constitutive component of the Viennese Post-War Avant-garde movements, the panel analyzes a special humour in sense of fictionalizing reality. Our research departs from Gertrud Koch's theses, cultural scientist, who works on a proleptic concept of humour, elaborated from Nietzsche, Husserl and Peter L. Berger. With humour as such strategy of perspectival decentering, these avant-gardists produced a utopian world in contrast to their political and social reality, which they refused."

"The proposal aims at developing a scientific approach that draws on works by Otto M. Zykan and Kurt Schwertsik in music, Ernst Jandl and Gerhard Rühm in literature, Friedensreich Hundertwasser in fine arts, Zünd up and Missing Link in architecture."

The lectures of this panel were published in the publication "Schmäh als ästhetische Strategie der Wiener Avantgarden". See "Publications"

Gabriele Jutz, University of Applied Arts, Vienna, and her collegues Nina Jukic and Christina Pia Hofer presented the Panel "The Utopian Potential of the Obsolete".

"Today, obsolescence is a relevant topic not only in artistic practices, but also in popular culture. This panel addresses the question why there is this interest today and how the obsolete can serve critical, even utopian purposes. Nina Jukic analyzes how the current resurrection of analogue photography in popular culture reflects utopian desires to resist the digital abundance of the modern world, yet relies on capitalism itself. Kristina Pia Hofer will focus on the example of Herschel Gordon Lewis' exploitation-feminist utopia She-Devils on Wheels (1968), whose appeal to later queer/feminist engagement has roots in the insistent presence of obsolete technology. Gabriele Jutz will deal with the historical avant-gardes, showing that their attitude to the new technologies of (audio)visual reproduction was retrograde, but necessarily so, given their radical utopian aspirations."

In a open panel Ingrid Fürhapter und Markus Ender, Research Institute Brenner-Archive of University Innsbruck gave a common lecture:
"Immer eines Kommenden trächtig?" Utopische und apokalyptische Visionen in der Zeitschrift "Der Brenner" (1910 – 1954)